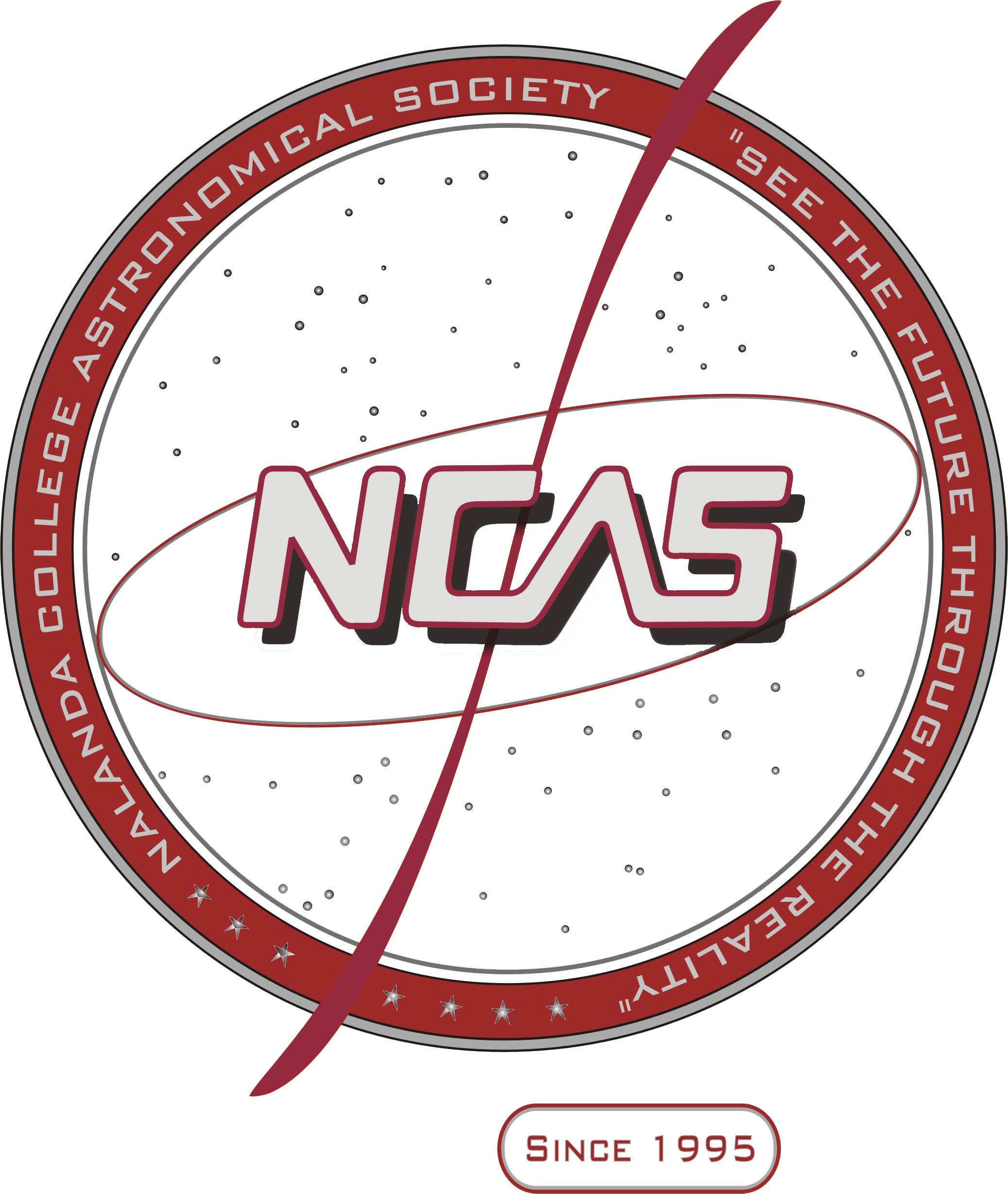 Nalanda College Astronomical Society (NCAS) was established in the year 1995 with a limited number of students but it developed very quickly limited inside Nalanda College. It became an active society in Nalanda by increasing the knowledge about astronomy and modern-day space administrations. In this task "Night Sky Observation Camping" was a special feature. Nalanda College Astronomical Society did a great service by improving the curiosity and astronomy knowledge of the students in that period. Back then, internet and information technology were in a low state of development. So we went through books and newspapers and other knowledge sources to get armed with Astronomical knowledge then we started to give our knowledge to other schools. With the beginning of the new millennium after the year 2000, our society stood as a strong and permanent society. In the beginning, we were limited to our school, but then we stood as an active Astronomical Society out of school as well as inside the school. To deliver the knowledge to students about Telescope which is most essential equipment for astronomical studies, the telescopes we received as donations were the best help we got.
Nowadays Astronomy becoming a popular subject among the school children. Our Astronomical Society is already a popular astronomy club among all the schools in the country. That's because of the lectures, workshops, exhibitions, night sky observation camps and research projects organized by NCAS. From the beginning to this moment quiz team of our astronomical society has taken a lot of victories and honors to both our school and society. Many students from our school astronomical society have participated in International Astronomy and Astrophysics Olympiads continuously from the year 2007. Also, our quiz team has become the champions in numerous inter-school astronomical quiz competitions.
Today we are richer in astronomical equipment when compared to the past. In the period which our astronomical society was established we just had only one telescope, but today twelve telescopes, which open the deep space for us, are with us. In technical field also we are in the front because we have the honor of making the first astronomical antenna and the first astronomical antenna network to count the meteors. In the year 2009 the winner of the Water Rocket Competition organized by the Arthur C. Clarke Center was a member of Nalanda College Astronomical Society and once again he brought honor to our society by participating in the Asia Pacific Regional Space Forum's Water Rocket Competition.
At present, there are more than 350 members who have the membership of our Astronomical Society. In 2008 NCAS alumni students established Old Nalandian's Astronomical Society. They're a huge strength for us and our march forward. We have taken steps to take Astronomy and Technology which is just limited to Colombo to other schools out of Western Province. We held hundreds of night sky observation camps in various areas in the country including Colombo, Gampaha, Habarana, Kandy, Hanguranketha, Bandarawela, Galle, Matara, Hambantota, and Badulla.
With the dawn of peace to improve the friendship with the students of both North and South, in 15th January in 2010 we held a camp at St. John's College, Jaffna there we organized an observation camp to observe the annular solar eclipse and also a night sky observation camp.
The research scientist in National Aeronautics and Space Administration (NASA) in U.S.A – Dr. Sarath Gunapala, Professor Padmajeewa Ganepola – who launched first South Asian research rocket who was a student of Nalanda in 1958, Professor Thulsy Wickramasinghe – a professor of The College of New Jersey, U.S.A, Prof. Chandana Jayaratne – Senior lecturer of the dept. of physics of the University Colombo are some greatest Sri Lankans who have donated to the whole nation by Nalanda. Our hope is to donate some greatest characters as above to the nation and for the betterment of the world.
Nalanda College Astronomical Society always stands towards the future as a powerful, strong and well-armed force with knowledge and skills among the Sri Lankan community. And, we will continue our mission to enhance the scientific enthusiasm among the students and public and increase the intellectual workforce needed to push Sri Lanka towards a better future.